Sale!
NF6036E5
Weight 977 Lbs
Inside Dimensions 53.5H 25.3125W 18.125D
Outside Dimensions 59H 36W 26D
Cubic Inches 30,666
Clear Door 52″H x 28.75″W
UPGRADE LOCK INSTALLED
Description
Description
NF SERIES – 90 MINUTE FIRE
The American Security Products NF Gun Safe offers both superior performance and value. For burglary protection, it has a stout ¼"-thick steel plate in the door. For fi re protection, it is lined with 3 layers of drywall that are strategically engineered for optimal fi re protection. This enables the NF Gun Safe to pass a verified 90-minute fi re test at Intertek, an independent testing laboratory.
Countless Features – Great Value
• U.L. certified RSC burglary protection
• 1/4″ solid steel plate door
• ETL certified 90 minute fire protection
• Gunmetal Gray with Black Nickel Hardware
• Lifetime Warranty Against Theft and Fire
STANDARD COLOR:
Gunmetal Gray (GY) with Black Nickel Hardware (LTN)
SECURITY
¼"-Thick Steel Plate Door
Four-Way Bolt Work
11-Gauge Steel Body
UL Residential Security Container Burglary Classification
14 massive 1½" Chrome Plated Bolts
4 Pre-Cut Anchor Holes
FIRE PROTECTION
Lined with Three Layers of Drywall
90-Minute Intertek Verified Fire Rating
Dual Door Seals to Protect Against Fire and Smoke
FUNCTIONALITY
Industry's Most Flexible Interior
Door Organizer
Storage for Two Long Guns or Assault Rifles on Door
Mirrored Back for Added Interior Visibility
AC Power Outlet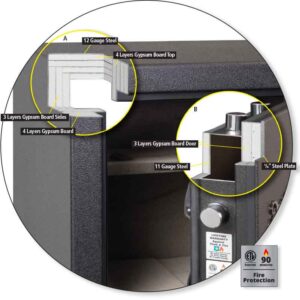 SPECIFICATIONS
| | |
| --- | --- |
| Weight | 977 lbs |
| Inside Dimensions | 53.5″H x 31.3125″W x 18.125″D |
| Outside Dimensions | 59″H x 36″W x 26″D |
| Clear Door | 52″H x 28.75″W |
| Cubic Inches | 30,666 |
| Gun Capacity | 17-17-34 + 2 Gun |
| Steel Door Thickness | 12″ |
| Outer Wall Steel Thickness | 11″ |
| Body Thickness | 11″ |
| Burglary Protection (Safe Rating) | RSC I |
| Fill Type | 3-ply Drywall |
| Fire Protection | 90-minute |
| Customizeable | No |
| Safe Type | Gun Safe |
Additional information
| | |
| --- | --- |
| Weight | 977 lbs |
| Dimensions | 53.5 × 25.3125 × 18.125 in |