25% OFF
BFII7240
Price: $12,405.00
Weight 1991 Libras
Inside Dimensions 65.5H 36W 19D
Outside Dimensions 71.25H 40W 26D
Cubic Feet 44,802
Clear Door 63.75″H x 32.3125″W
Gun Capacity 12-12-12-24-36+2 or 58G+2
UPGRADE LOCK INSTALLED
Description
HARDWARE COLOR OPTIONS
Description
Description
PIC: BFII7240 Shown in Charcoal Metallic Color with Black Nickel Hardware (Additional charge)
BFII SERIES CONSTRUCTION
11GA OUTER STEEL LINER WITH A COMBINED 5/16" INNER STEEL LINER PROVIDING A TOTAL NEARLY 1/2" THICK STEEL BARRIER FOR ADDED BURGLARY PROTECTION
The world's most unique gun safe
• U.L. certified RSCII burglary protection
• 1/2″ solid steel plate door
• ETL certified 120 minute fire protection
• High gloss and textured paint options
• Lifetime warranty Against Theft and Fire
• Proudly made in the USA
SECURITY
1/2"-Thick Steel Plate Door
2-1/4"-Thick Body with 1/8" outer shell and 5/16" thick inner liner
Combined steel thickness of 1/2" in body construction
UL Level II RSC Burglary Classification (2-Man team, 10-minute test. Utilizes same tools as a TL-15)
AMSEC's patented active hardplate
TL-15 boltwork with 10 massive 1½" Chrome Plated Bolts
4 Pre-Cut Anchor Holes
Group 2M Lock is protected by a proprietary patented hard plate, dual external relocker and one internal relocker. Optional auxiliary key lock available.
WARRANTY
5-year parts and labor warranty when purchased with a factory installed AMSEC lock
Special lifetime warranty for damage from burglary attempts and fire
FIRE PROTECTION
Seamless DryLight Fill
120-Minute Intertek Verified Fire Rating
Dual Door Seals to Protect Against Fire and Smoke
New Intertek laboratory testing confirms that AMSEC's BF® Gun Safes have superior fire protection for two hours at 1,200ºF.
AMSEC's BF Gun Safes use a proprietary fill material called DryLight, which offers exceptional fire protection without adding excess weight. This superior fire protection was confirmed at Intertek, the industry's leading independent laboratory for gun safe fire testing. When analyzing the fire performance of competitive safes, be sure to weigh reports from independent laboratories against unverified factory testing.
During fire testing, Intertek kept our BF Gun Safes in their test oven for two hours. Within 8 minutes, the furnace temperature was raised to 1200° F, and that temperature was maintained for the remainder of the two-hour test. This method is consistent with the UL-72 fire test curve. Typical house fires only reach temperatures of 1100° F. A safe is considered to have failed this test if temperatures exceed 350°F anywhere in the safe. Our safe passed the test as internal temperatures never exceeded 325° F during the two hours of testing. Paper typically starts to ignite at 450° F.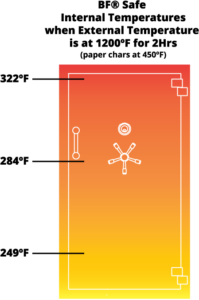 FUNCTIONALITY
Industry's Most Flexible Interior
Door Organizer
Storage for Long Guns or Assault Rifles on Door
LED light kit
Mirrored Back for Added Interior Visibility
AC Power Outlet with Removable Cord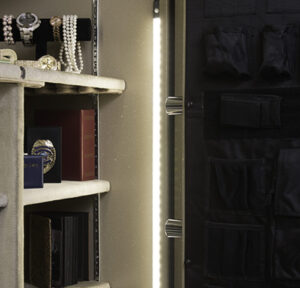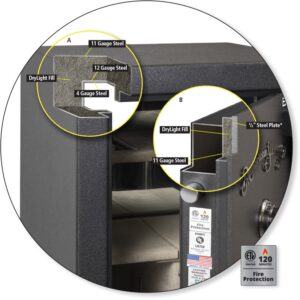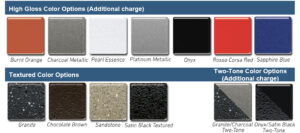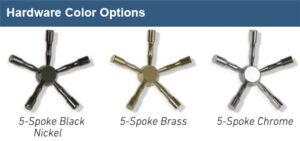 Additional information
| | |
| --- | --- |
| Weight | 1991 lbs |
| Dimensions | 65.5 × 36 × 19 in |